About Greg Landau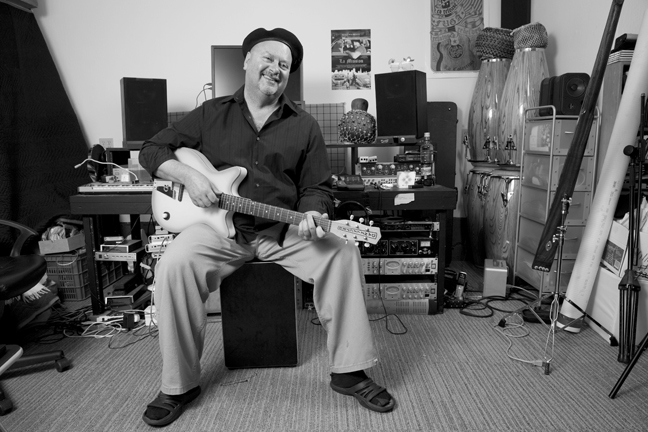 Greg Landau is an award-winning music/video producer, educator and music historian with a doctorate from UC San Diego's prestigious School of Communication. Over the last 20 years, he has produced six Grammy nominated CD's and among the over 50 CDs, numerous film sound tracks and videos. He has worked with renowned artists including: Carlos "Patato" Valdez, Maldita Vecindad, Jerry Gonzalez, Kepa Junkera, Buena Vista Social Club Producer Juan de Marcos Gonzalez, Susan Baca, Bobi Cespedes, Dr. Loco, Pete Seeger, Omar Sosa, John Santos, Pancho Quinto, Quetzal, Los Mocosos, Fuga!, Sambada, Manicato, John Calloway and David Byrne's record label Luaka Bop, Vanguard Records, Six Degrees and many others. His musical productions have been featured in films and television including the new Benjamin and Peter Bratt film, La Mission, The Other Barrio, Oliver Stone's Comandante, Survivor: Nicaragua, CSI Miami, The Family Guy, Dexter, Burn Notice, Nash Bridges, Punk', HBO's Hemingway and Gelhorn, and several PBS documentaries
His musical production credits include work for PBS, Disney, Sony, Warner Bros., CNN, Lucas Film, Six Degrees Records, HBO, McDonald's and StarMedia.
From the Mission District, the gateway to Latin America
Greg began his musical career in San Francisco's Mission District as a student at Mission High School, where he played guitar in Latin rock bands in the early 1970's. He performed in neighborhood dances and clubs with the Quintana Brothers band, Kabala. Later in 1974, he joined the singer from the band Malo, Arcelio Garcia in the band Zorro on several US and Canadian tours, including a stint with the Wilson Picket Review in Canada, a run in Los Angeles with the group Tierra and shows with El Gran Combo, Eddie Palmieri, Joe Bataan and Orchesta Harlow.
He also composed a song for Francisco Aguabella's classic LP, "Hitting Hard" and performed with him in Cesar's Latin All Stars occasionally. He began playing the Cuban tres and soon joined the legendary Cuban music collective, Tipica Cienfuegos, led by John Santos and John Calloway. This group played big shows all over the Bay Area and shared stages with Ruben Blades, Los Papines, Dizzy Gillespie, Eddie Palmieri, Grupo Moncada and Armando Peraza.
Shorly after this group disbanded he formed a Latin punk group, Los Pachanga Pistols that recorded a ground breaking record that combined Latin rhythms with Funk, Reggae and Punk Rock. In 1979, he graduated from UC Berkeley, where he studied with Brazilian folklorist, Paolo de Carvalho Neto, author of El Folklor de las Luchas Sociales. With Carvalho Neto he studied the works of Fernando Ortiz, Roger Bastide, Sidney Mintz, Melville Herskovitz and other scholars of Latin American culture.
The Mission was a hotbed of creativity and musical experimentation, alive with poetry, dance, music from all over Latin America as well as political movements that used combined these cultural currents into their activities. In 1979, the Sandinistas marched into Managua and the Mission District was alive with celebration as this neighborhood was the center of the solidarity movement.
Nicaragua
In 1980, Landau was invited to work in Nicaragua in the newly founded Ministry of Culture, in the Folkloric Research Department. He spent time travelling across the country recording folk music and documenting the tradition and folklore of Nicaragua and especially the Atlantic Coast. In 1981, Carlos Mejia Godoy asked him to participate in the Canto Epico al Frente Sandinista, an epic poem with music and dance that narrated the history of the Nicaraguan Revolution. It was performed over a week period in the National Theater. In 1981, he soon joined the renown Nicaraguan Nueva Cancion group: Luis Enrique Mejia Godoy and Grupo Mancotal. He toured internationally with them as a guitarist and tresero. They shared stages with Silvio Rodriguez, Pablo Milanes, Mercedes Sosa, Chico Buarque, Amparo Ochoa and Nicomedes Santa Cruz in music festivals and concerts all over Latin America and Europe. He also recorded with Grupo Pancasan and accompanied other International artists that visited Nicaragua including Peter, Paul and Mary, Pete Seeger, Alan Ginsberg, Kris Kristoferson, and many others. He lived in Nicaragua for a decade, working in the Nicaraguan Ministry of Culture. He also produced radio programs on The Nicaraguan Community Radio Network and a daily Caribbean music program for Radio Sandino.
In 1987, he began working with a Afro-Nicaraguan reggae group, Soul Vibrations, from the Atlantic Coast region. Together they recorded, Rock Down Central America, featuring original reggae songs in English and Spanish that became popular all over the world. He toured with Soul Vibrations throughout Canada and the U.S. playing guitar and tres. He directed a video, Rock Down Central America, (winner of the prestigious Black Coral Award at the Latin American Film and Video Festival in Havana Cuba in 1989) that documented the group's search for identity in a confusing historical moment.
Music Producer
In 1992, he began a career as a music producer collaborating with Jackson Browne on the Duo Guardabarranco CD, Casa Abrierta. In 1994, he produced a series CD's with Puerto Rican poet Piri Thomas, that began a long time collaboration with Carlos "Patato" Valdes and saxophonist Enrique Fernandez and bassist Joe Santiago. The first poetry CD, Sounds of the Streets used members of the legendary Mario Bauza Orchestra as well as a soulful Oakland based acappela group, "Street Sounds" and soulful blues singer, Zakiya Hooker, daughter of legendary John Lee Hooker and her husband, the great soul singer, Ollan Christopher. Later, he helped Zakiya and Ollan build a studio in East Oakland. There Landau recorded the Mexican son jarocho group Mono Blanco's Stone Lips CD (though he was not mentioned in the credits in this groundbreakingCD).
Ritmo y Candela
This process of creating new textures in Latin music led him to create the Ritmo y Candela project that combined Patato with Changuito, the famous Los Van Van drummer and Orestes Vilato, a pillar of the New York salsa movement. This Grammy nominated CD was hailed as a breakthrough in Latin Jazz, as it highlighted the percussion that featured the techniques of these masters and explored the nuances of their playing styles. The next chapter of this series, African Crossroads, also Grammy nominated, paired Patato with African singer, Samba Mapangala, Cuban percussionist Miguel "Anga" Diaz, pianist Ivan "Melon" Gonzalez, Walfredo de los Reyes Sr. and Omar Sosa.
Work in Cuba
Inspired by these project, he traveled to Cuba with partner in Round World Records, Robert Leaver to record new music there. In a two week period they recorded three groundbreaking CD's in an old house on the outskirts of Havana. The CD's, Pancho Quinto's, En El Solar la Cueva del Humo, brought together a dream team of Havana's guarapahcangeuros to record Pancho's unique blend of rhythms, directed by drummer/babalao Octavio Rodriguez.
In the same sessions they recorded Los Terry's debut CD, with Pancho, Yosvany, Yoel and Yunior Terry, a groundbreaking Cuban music family. Also on the session were pianist Ivan "Melon" Gonzalez, who was playing in the vanguard timba band of Isaac Delgado, drummer Dafnis Prieto on congas and the legendary singer Laito of the Sonora Matanacera. The next day they tracked Bellita y su Jazztumbata, a jazz trio led by Bellita Esposito, a jazz pianist/singer and her husband Miranda, who played bass and congas at the same time. Many of these tracks have been included in Cuban music compilations on Rhino. Sony, World Music Network and others.
Peru
The success of Ritmo y Candela led to an invitation from David Byrne to produce with Afro-Peruvian singer, Susana Baca in Peru. This legendary CD, released on Warner/ Luaka Bop, brought Susana Baca to the world's attention, bringing her lyrical approach to Afro-Peruvian music. During his time in Peru, Landau made important contacts with Peruvian musicians despite the political turbulence of 1996. This CD launched Susana Baca's international career and became an icon of Afro-Peruvian music around the world.
San Francisco Bay Area
In 1998, he began working on a CD with Jesus Diaz, Omar Sosa and Rahsaan Fredericks on a project they called, Oaktown Irawo, that featured Tower of Power drummer, Dave Garibaldi, Yosvany Terry, bassoonist Paul Hanson as well Santana trumpeter Bill Ortiz, Marty Wehner and flautist, John Calloway. This innovative CD, brought together Oaktown funk and Cuban jazz in a unique blend.
At the Grammy awards in 1998, where he attended with Patato to represent their Rhythm at the Crossroads nomination, he ran into an old acquaintance, tresero/producer, Juan de Marcos Gonzalez. Gonzalez was there with two Grammy nominations for the Buena Vista Social Club and the Afro-Cuban All Stars, both of which he produced. They began a conversation that led Landau to build a digital studio for Juan de Marcos in his home in Cuba and a collaboration on the Amadito Valdes CD, Bajando Gervasio that Landau and Gonzalez mixed together in Gonzalez's home studio and Landau's garage studio in San Francisco. The CD was nominated for a Grammy in 2003 and launched Amadito's solo career.
Chicano Music
In the late 1990's joined forces with many local Chicano musicians and produced CD's for Dr. Loco and his Rockin' Jalapeno Band that featured cameos by members of Ozomatli and two songs with the Latino comedy group Culture Clash. The CD, recorded in Dr. Loco's SF garages His nephew, Camilo Landau, began his partnership at this time, helping with the recording. This marked the beginning of a strong partnership that continues to this day as Camilo has been a part of all of Landau's projects.
Soon after he produced a widely acclaimed CD. Sing the Real, for the LA based Afro-Chicano rock band, Quetzal for Vanguard Records, a daring exploration of the Chicano musical experience that brought together elements of Son Jarocho, Afro-Cuban R and B and good old California Rock. Camilo, later joined the band on tour as their guitarist that marked his debut as a professional musician, as they toured with Los Lobos, Run DMC, Aerosmith and other major acts. The CD broke new ground in Chicano music by exploring the unique influences that have become a part of the Chicano experience, such as indigenous spirituality, the Zapatista movement, Afro-Cuban music and religions, world music and hip hop.
Six Degrees Records
In 1999, he began his association with Six Degrees Records, which licensed the Ritmo y Candela series that they released as, Patato, the Legend of Cuban Percussion. At the same time they did a series of innovative remixes of the material, inspiring Landau to try incorporate elements of electronica in his work. He produced a compilation, Cuban without Borders, and later a solo CD for Cuban singer Bobi Cespedes, that featured the legendary Cuban pianist arranger, Oriente Lopez. This CD brought together electronic textures, hip hop beats and the spiritual roots of Cuban music in an interesting blend. The CD features Oakland's premier hip hop producer One Drop Scot and Cuban percussionist Nengue Hernandez creating a dynamic cross genre rhythm section.
In 2004, Landau began working closer to home producing a Six Degrees project for Mission District barrio rockers, Los Mocosos, that featured Santana trumpeter Bill Ortiz, a frequent collaborator and the post-production help of British mixer/producer Gary Hughes and Donal Hodgson in England who also contributed to the Bobi Cespedes project.
In 2005 Landau received an email from Pamela Rodriguez, a young Peruvian singer/songwriter asking for help on her debut CD. He added tracks and production elements to her work, Peru Blue, for which she was nominated Best New Artist in the Latin Grammys of 2006. This CD included ex-Susana guitarist Rafael "Fayo" Munoz and cajonero Juan Medrano Cotito. He returned to Peru to produce her follow up CD, En la Orilla with Munoz, Cotito and legendary Berkeley drummer Josh Jones. The widely acclaimed CD combined contemporary beats with Peruvian rhythms including Lando, Festejo, Zamacueca and the cumbia influenced, Chicha. It achieved platinum status in Peru and was given the Record of the Year award by the Peruvian press.
Since then he has traveled to Peru to record a series of three CD's with Susana Baca featuring recently uncovered songs by the great Chabuca Granda that are being released on Luaka Bop and a three CD set in Peru. They also collaborated with Omar Sosa to record a series of songs by the great Cuban singer Bola de Nieve. He also did post-production work on the new CD by Pamela Rodriguez's brother PP Rodriguez, recorded the first Peruvian surf-rock CD.
In 2006, Landau began working with Mexican rockers, Maldita Vecindad, one of Mexico's legendary bands that were one the pioneers of Latin American rock. Together they began composing new songs and recorded a CD, Circular Colectivo, over a three year period that will be release din October 2009, that features Cuban pianist Omar Sosa, Santana timbalero, Karl Perraza, drummer Paul Van Waggeningen, legendary Mission District percussionist Roberto Quintana and the Veracruz Son Jarocho group, Los Cojolites. This project launched a new production team, El Sindicato Creativo, with producer musician Hector Perez, Camilo Landau and mixer mastering engineer john Greenham. The CD was just released in Mexico and has enjoyed great commercial and artistic success as the group has re-emerged with a new contemporery sound, forged with Greg and Hector's input.
El Son Jarocho
In 2009 he began working with a groundbreaking band from Southern Veracruz, Los Cojolites and recorded three CD's with them including the Grammy nominated release, Sembrando Flores. Since then he has recorded with the contemporary Son Jarocho artist Laura Rebolloso, Andres Flores y Los Hijos de Jose featuring Martha Gonzalez and la Marysoul Hernandez.
In Addition
The Landau production team of Greg and nephew Camilo Landau also composed music for Santero, a local San Francisco Bay Area MC/rapper which has recieved wide acclaim and was featured on NPR's, "All Things Considered" and "Latino USA". In 2006, he produced the groundbreaking CD,Salve A Bahia with Sambada, a Brazilian group from Santa Cruz that features members of the legendary Bahian group, Ile Aiye.